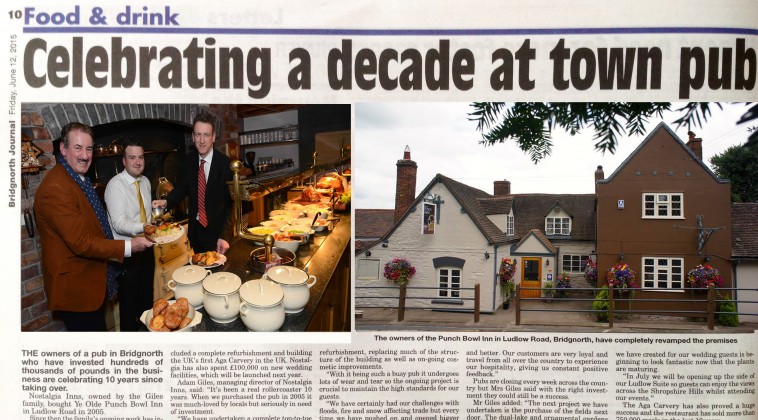 This month sees the 10th anniversary year since Nostalgia Inns, owned by the Giles family, purchased Ye Olde Punch Bowl Inn.
Since the purchase in 2005 they have invested in an on-going programme of complete refurbishment throughout, plus a number of initiatives including being the first AGA Carvery in the Uk as well as over £100,000 of new wedding facilities including a dual ornamental lake exclusively for wedding guests to launch for 2016 weddings. "It's been a real roller-coaster of a ten years" comments owner and MD of Nostalgia Inns Adam Giles "when we purchased the pub in 2005 it was much loved by locals, but seriously in need of investment, so we have undertaken a complete top to toe refurbishment, replacing much of the structure of the building as well as on-going cosmetic improvements – being such a busy pub means it under-goes lots of wear and tear – so the ongoing project is crucial to maintain the high standards for our guests" he continued "we have certainly had our challenges with floods, fire and snow affecting trade, but every time we have pushed on and opened bigger and better – our customers are very loyal and travel from all over the country to experience our award winning hospitality, giving us constant positive feedback, backed up by our National Awards for customer Service, innovation and of course our real ale awards."
Investments. With many pubs closing across the Uk the on-going investment of Nostalgia Inns means they are bucking the trend by growing year on year "you have to keep investing in a business like this" continues Adam "the next project we have undertaken is the purchase of the fields next door and the dual-lake we and ornamental gardens we have created for our wedding guests – its beginning to look fantastic now that the plants are maturing – then in July we will be opening up the side of our Ludlow Suite so guests can enjoy the spectacular views across the Shropshire Hills whilst attending our events. Our wedding guests will have exclusive access to the gardens for their guests and their photos on our ornamental Japanese style bridge – the veranda is being installed in July, we cant wait"
Wedding give-away – to celebrate their tenth anniversary Ye Olde Punch Bowl Inn are offering wedding guests the opportunity to book their 2016 wedding and save £1000 off their exclusive garden use package. Further details on their website www.punchbowlinn.com
Anniversary AGA Carvery Offer – To celebrate the anniversary and the new Summer menus, diners are also rewarded by being invited to enjoy an award winning 3 course AGA carvery meal midweek evenings during June for just £10. 'we have sold over 750,000 meals to happy customers since we opened in 2005, so we thought we would celebrate by giving something back and are offering a special limited deal of 3 courses for £10 to our regulars and their guests throughout June, and we will reward them with an AGA meal for a party of 10 at one of our Monthly tribute nights!!
Article featured in the Express and Star June 2015.
Download and print the below to enjoy your 3 course AGA Carvery meal in June! See terms.