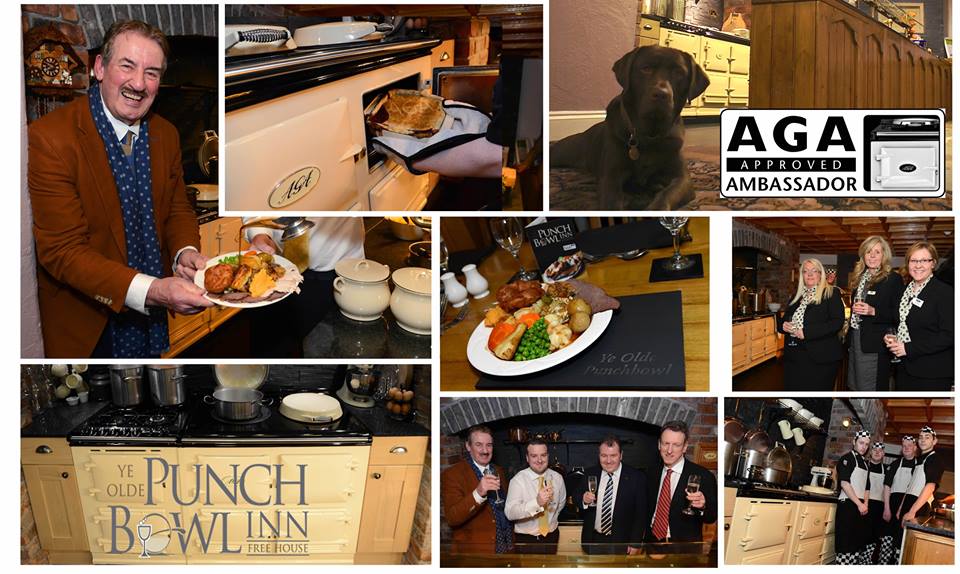 This week saw the anniversary of the UK's first official AGA Carvery – Created by Shropshire based restaurateur and publican Adam Giles MD of family run Nostalgia Inns.
Ye Olde Punch Bowl Inn is located just outside Bridgnorth and was the first of its kind in the UK to create the AGA Carvery concept and launch it last February 2014, to much acclaim.
Since its launch Ye Olde Punch Bowl Inn has announced it has served a staggering staggering 80,000 diners from it's AGA Carvery who have enjoyed the unique flavours created by the slow cooking of the meats and the fresh vegetables – It has even now become a regular haunt for famous faces from TV, News and Sport, including Nick Owen of BBC Midlands today, BBC TV Actor 'Boycie' from the hit comedy series 'Only Fools and Horses' – "It is the best carvery I have ever had", commented actor John Challis, who is also a Shropshire resident. Gareth Edwards the famed Welsh Rugby player is also set to make an appearance there shortly and is sure to be converted to the AGA Carvery.
'Fresh from the hot plate to your plate' – Diners travel from all over the UK and many have commented on the quality and tenderness of the meats, as well as the extra crispy potatoes and vegetables all cooked in the AGA cooker 'The feedback has been amazing', comments Adam Giles, creator of the AGA Carvery concept and MD of Ye Olde Punch Bowl Inn owners Nostalgia Inns – "We always received very positive feedback from our diners, as well as awards but since the AGA was installed the feedback has been incredible, far beyond our wildest dreams – We were so impressed we even installed one in our sister pub, the Plough Inn, near Bewdley – the response at both sites has been amazing, as well as enquiries from our diners about buying an AGA cooker for their own homes, as they have been impressed how versatile our AGA Total Control is – we even give them a private demo if they enquire". Adam has been awarded by guides including Les Routier and industry awards, as well as with the accreditation of becoming an 'AGA Ambassador' by the Telford based company and is helping drive awareness of the versatility of AGA in the UK
Wedding Investment – Never one to rest on his laurels, following last years investment in the new AGA and refurbishment of the entire pub, Adam has taken the AGA concept even further, he has since bought some land adjacent and has invested over £100,000 in the land and is now landscaping of the hillside for weddings, installing a stunning dual-lake, with Japanese style ornamental bridge and gardens for wedding guests – "We thought we would push the boat out a little further", adds Adam "For 2016 our wedding guests will be able to enjoy the stunning location and beautiful views of the Shropshire hills beyond for exclusive use for themselves and their wedding guests – they will of course be able to arrange an AGA Carvery meal for their guests of up to 150 – we like to think it will be the perfect backdrop to weddings in the region".
For more information and photographs of the new wedding project visit here